Department of Financial Institutions
"

Foreclosure Mediation

"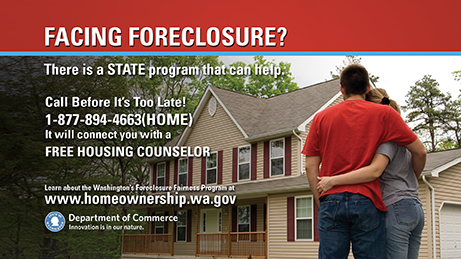 From 2012 to 2014 the Department of Financial Institutions contracted with GCI Marketing to support DFI's Housing Foreclosure Mediation program designed to reach the nine counties in the state of Washington hardest hit by foreclosures.
In response, we developed a variety of promotions for seven newspapers and nine radio stations' websites. In each we selected media types that best maximized DFI's budget of $800,000 to reach the largest audience.
Our job was to design, script, produce and distribute bilingual educational messages via newspapers, radio, online advertising, social media, Google Ad Words and theater ads. GCI provided to DFI a monthly accounting of all ad placements, associated costs, PDF print-outs of all advertisement samples as well as maps of each of the nine counties showing radio broadcast coverage.
The success of the program was apparent as home foreclosures declined.